Since I just returned from a vacation trip, even if it was just a weekend, I'm debating with myself where to go next..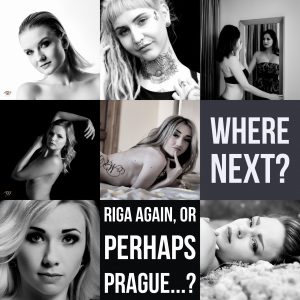 Doesn't look like I'll have time to go on a new trip this year, but after that… where to?
So really not sure if I want to return to Riga, and work with new and familiar people or off on and get to know a bunch of new people…
There are a number of models I'd like to work with again in Latvia, but also would like to expand and I do know that there are a large number of wonderful models living in or near Prague…
Why not <insert random other place>?
Can't be too far away from where I travel from, looking for a weekend or extended weekend trip, can't be too expensive to get there or stay and finally must have a significant number of potential models. So for an example, London is cheap for me to travel to, huge number of models that live in and near, but insane cost of studios or large apartments.
I do have plans, but not any solid ones…, to travel a bit further away to shoot.
Do hope to return to Ukraine soon, and hope to combine this with another trip to Lviv and continue my attempt at learning Ukrainian
Another plan of mine is to visit south-east Asia, Thailand or Vietnam, but I think I should go there first as a regular tourist as I'm not quite sure how well I'll actually will manage to work in the heat 🙂 Have visited Australia and Florida when it was warm, but not sure the climate there is the same, so before I try to set up a photography trip there I should do a normal visit first 🙂
"Hey can I model for you?"
I love working with new people, but do read what I've written about it on this page so we don't waste each other's time.
by